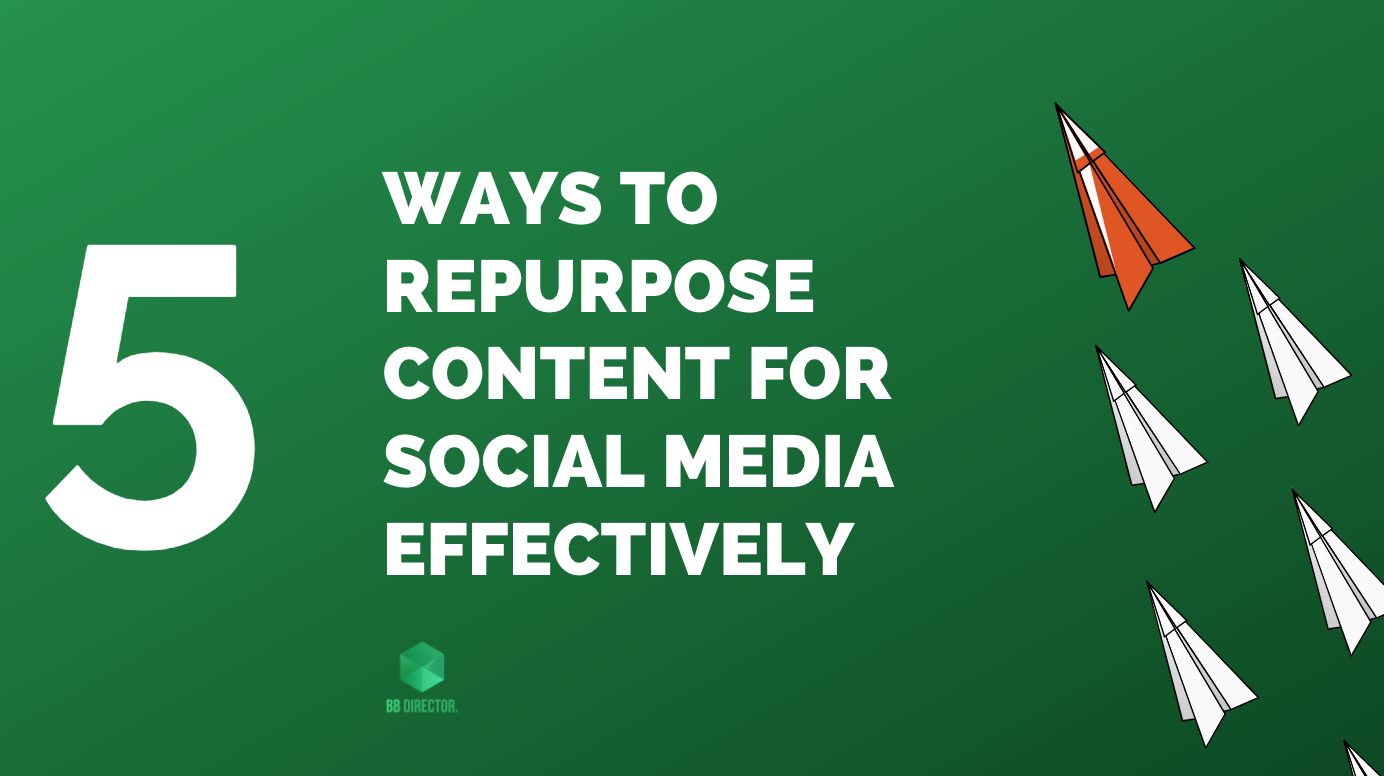 Creating and producing enough great content for your digital and social media channels is a real challenge that can be time-consuming and tough to achieve sometimes.
One of the ways to make the best out of your efforts is to repurpose content for social media.
But how can you pick the right piece of content to transform? And how do you know the right moment to post it and on which social network? And which format to use to catch your audience's attention?
Let's dive into this article and learn the answers to all these questions!
Repurposing Content For Social Media: What Is It And Why You Should Do It?
Content marketers and media marketing experts understand the effort of creating new, high-quality, and engaging content. The good news here is that repurposing your old content is much easier than you may think.
Here, we'll discuss what repurposing social content actually means and why it's beneficial for your brand.
So, let's start!
What Content Repurposing Actually Means
Before moving any further, it's crucial to understand what "Repurpose Content" actually means.
Repurposing your content is the method of reusing existing content to grow that content's reach, use it for a different purpose, or target a new audience.
Repurposed content is often transformed into a new format, such as turning a blog post into a series of social media posts or transforming a well-performing how-to guide into a list of creative tips or video tutorials.
Why Repurposing Content For Social Media Is Crucial For Your Brand?
Whether you have a relatively new company or have been active online for an extended period, you must understand the importance of having high-quality content across your website or social media.
Many businesses already have numerous marketing materials lying around that are perfect for repurposing and can be modified and reused as online content. For example, old company product brochures, client emails, past blog posts and eBooks, presentations, youtube videos…all these materials are excellent ways to generate content efficiently.
Some of the many benefits of using repurposed content are:
Improve Content Performance: Your content's performing success has everything to do with the context in which it is presented to the target audience. Simply because it did not perform well at a given time, it does not mean that you can't use a different situation to showcase its value.
Boost Your Organic Social Media Reach: On the other hand, you can always choose to repurpose top-performing content to increase your reach. To do that, you can quickly identify your top-performing content based on the traffic, social media shares, comments, and backlinks.
Strengthen Your Brand Presence: As well said, repetition is the mother of all learnings, the same theory applies to social media content. There's a theory that customers need to hear your message seven times before purchasing. So even though repetition might be effective, by repurposing old content, you forward your core message differently, eventually achieving better results.
How To Repurpose Your Content: Strategy And Tips
By the end of this article, you'll have tons of ideas for how to repurpose your social media content.
And, of course, if you still need any help, we can always book a free 30-minute call!
So, let's get started!
Identify The Content You Want To Repurpose And Adapt It For Cross-Platform Sharing
There are many places where you can find content worth repurposing, and it doesn't always have to be your own content.
However, while looking at your content, there are two things to consider when deciding whether a specific part is worth repurposing:
Find your evergreen content: Evergreen content always stays relevant, regardless of how much time goes by. It's usually on a subject or a topic that will constantly be explored, which will receive a genuine interest from your audience.
Use your most popular content: Another way to find content worth repurposing is by looking at your most popular content. This way, you know you will receive plenty of traffic on your social accounts.
While choosing the right content to repurpose is crucial, adapting it for cross-platform sharing is what drives the most traffic and engages the audience. You can post the same content on multiple social media platforms, and you should customize it for each platform you're repurposing content for.
Get Creative With How You Can Repurpose Your Content
Using creativity is one of the most efficient ways to engage viewers. For example, when you write a blog post, you can easily repurpose the content by creating an image summarizing the post and posting that image on Instagram, Facebook or Pinterest. You can also take quotes from the blog content and post them on Twitter.
This is where you can use the help of a creative strategist. If you want to learn more, check this link.
Create A Series Of Posts From A Single Idea
You can choose to repurpose content that you haven't even published yet!
For example, creating a series of posts from a single idea, concept, or topic is almost more like planned campaigns than standalone posts. They can help you bring more attention to the subject you want to promote, and there are plenty of ways for you to do this.
Get creative.
Motivate People To View Your Other Content
You can always end a sentence with a suggestion for viewing other posts or links to your content on social media. This could potentially generate more engagement and traffic to your site.
5 Ways Of Repurposing Content For Social Media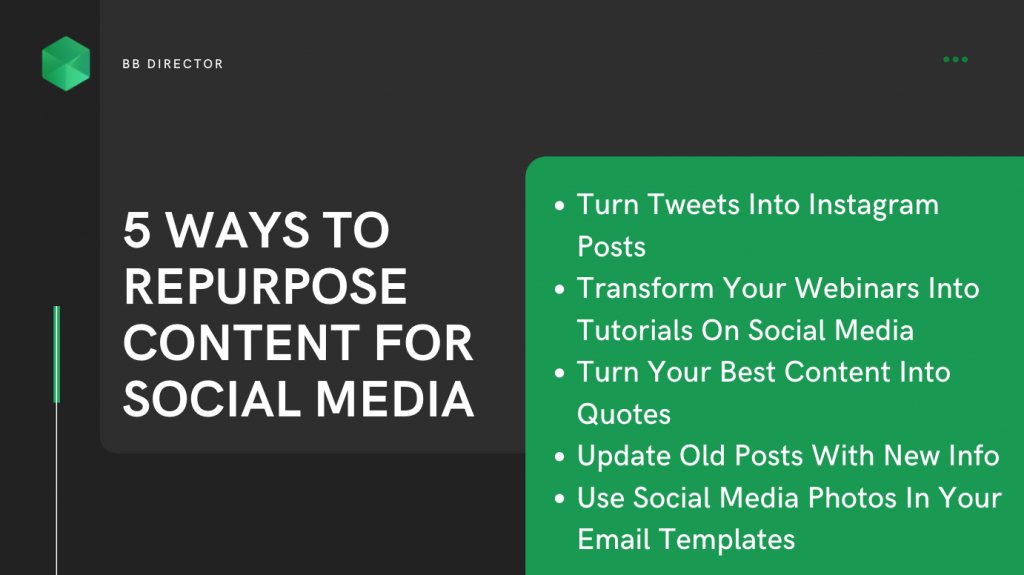 Here are 5 ways on how you can efficiently repurpose your content:
Turn Tweets Into Instagram Posts
Whether it's your tweets, your customers' tweets or event tweets by other accounts that you've liked, repurposing your tweets on Instagram is an excellent way to bring more context to the message you want to share with your clients.
However, if you plan on reusing content on Instagram, you have to make the photo high-quality and contextual to Instagram, as a low-quality screenshot won't do these days.
Transform Your Webinars Into Tutorials On Social Media
You recently hosted a webinar that was a huge success?
Still, some people could not attend, and they won't watch the replay either, so you need to develop a plan and make sure to bring your webinar to as many individuals as you can.
To do that, you can always repurpose your webinar as a Youtube video or create short videos of some of the best parts and share them on social media resulting in new visitors to your Youtube channel. This way, you improve the likelihood of having more attendees at your post future webinars.
Turn Your Best Content Into Quotes
If you are constantly posting promotional content, it may turn out to be counterproductive, and you may see your results drop. Instead, it would be best to find the right balance between promotional and entertaining content.
Nowadays, people want to see informative but inspirational, positive, and humoristic content. Therefore, combining posts like quotes could positively contribute to your marketing strategy.
That's why remodeling your content into a quote that helps convey the meaning of the entire content piece is an intelligent way of repurposing content. For example, it could be quotes from your blog, case studies, presentations, podcast episode etc.
Update Old Posts With New Info
You may have well-written older posts on an interesting subject that hasn't been performing well. However, if the topic is still trending and relevant, you can bring it back into the spotlight with a little bit of fresh update.
When you make an effort to improve old posts by changing outdated details, you can reuse most of the content and even keep the same format. Best of all, this technique builds your readers' trust in your content. Finally, updating your social account consistently shows that you don't leave posts with incorrect or outdated information.
Use Social Media Photos In Your Email Templates
Photos are an essential part of any email design. But creating high-quality images can be time-consuming and expensive. So, to save on time and expense, it's best to use photos from your media accounts in your email templates.
Creating a strong brand image across various marketing channels will help your audience become more familiar with your brand.
Images from Instagram and Pinterest can be used to create newsletter headers. But it's not just the email header where you can use your shots, you can also use them in the email footer. The bottom of an email is the perfect place to mention your social media channels and encourage subscribers to become followers.
Final Thoughts
Constantly coming up with new ideas for your content marketing campaigns can be time-consuming and frustrating. But by repurposing existing social media content, you can save time, money and other resources.
After reading this article, you'll gain all the knowledge you need to start repurposing content for your social media accounts and improve your digital marketing knowledge.
Thanks for reading, and don't forget to share your thought and comments in the comment section below!
Check out our additional guides on content production: