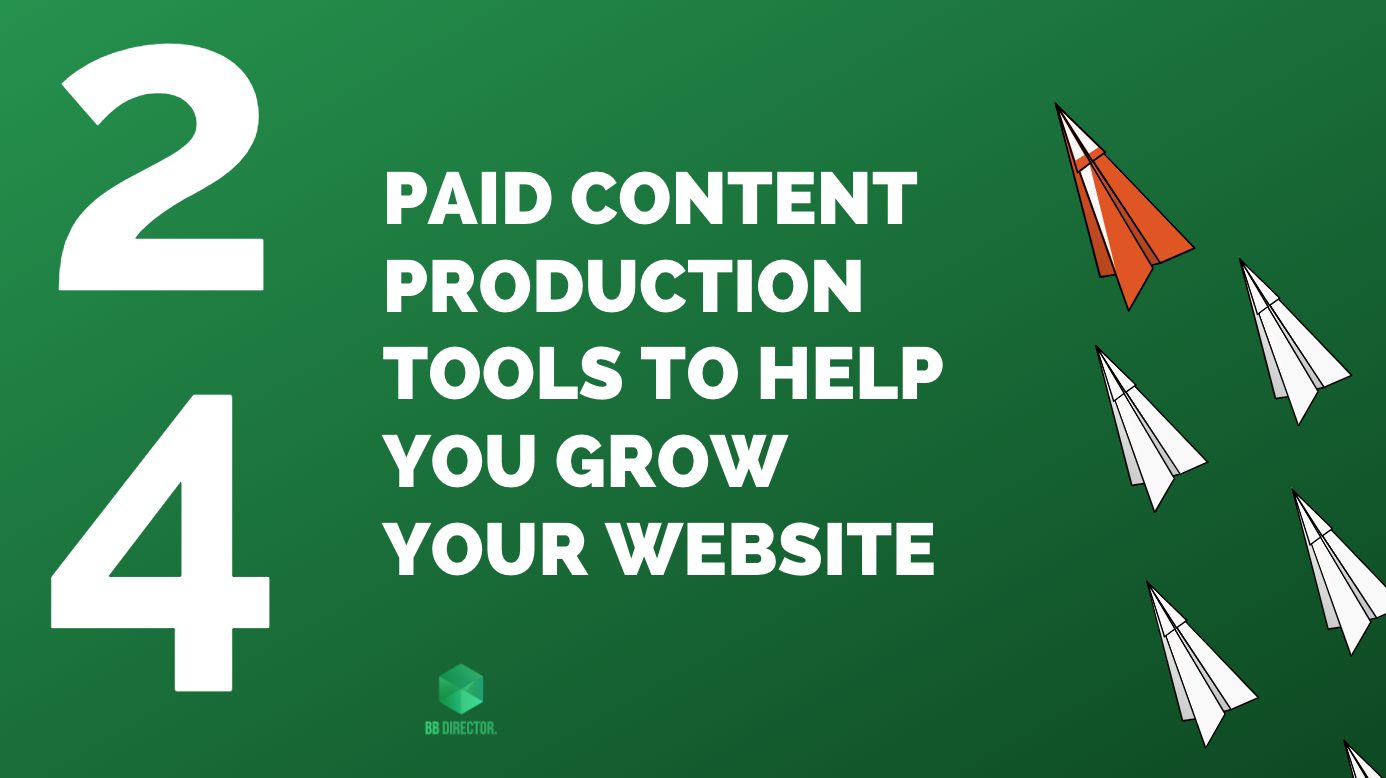 It's well established now that content production is an aspect of marketing worth directing your efforts towards.
Researching and writing your content is usually the simple part, but more difficult is making the content exciting and easy for your readers to digest.
In this article, we'll explore some of the best paid content production tools available on the market that will help to create compelling and easy-to-read, engaging content.
So, let's get started!
Best Content Research and Planning Tools
Sometimes, just thinking about new ideas and coming up with the motivation to write your content is one of the most challenging parts of the whole process.
Creating content without a solid plan in motion makes it harder for you to focus and succeed. Luckily, many great tools are created and ideally suited to help you plan and research your content.
Sounds interesting? Check this Content Production Strategy article!
While designed as a tool for keyword research, Ubersuggest can also help you find content ideas that can help you get your audience's attention.
It works by expanding the seed keyword using suggestions from Google Suggest and Google Ads Keyword Planner.
Pricing: From $12.00 per month with an option to pay $120.00 once for a lifetime subscription.
Buzzsumo is one of the most useful social media content analytics tools that helps you to post only trending content. This handy tool also helps you with content-related research.
Pricing: From $99.00 per month for a pro account, with an option to pay annually, in which case the price is $79.00 per month.
After identifying the content you want to create and produce, creating a solid editorial calendar is the next most important step.
Planning a content strategy around an editorial calendar will help you be more responsible and take the needed steps to drive growth. In addition, it is an excellent method to motivate you to have a regular publishing schedule, and the SEMrush Marketing Calendar is the ideal tool that can help you achieve this.
Pricing: From $119.95 per month with an option to pay annually, in which case the price is $99.95 per month.
Best Keyword Research Tools And Best Keyword Grouping Tools
Keyword grouping is the process of creating lists or clusters of related keywords, which you can easily use to create content optimized for multiple search terms by using several associated words from a keyword group.
The simple purpose of the keyword research tool is to find out what your targeted audience is looking for and what it will take to rank for those keywords. Luckily, with these tools, I am about to mention, you can quickly achieve that!
Ahrefs is a top-rated tool that gives high-quality keyword data.
When entering multiple keywords, Keywords Explorer will take 10 of the most popular keywords, generate thousands of ideas, and eventually help you determine how hard it would be to rank in the top 10 search results for any given keyword.
Pricing: From $99.00 per month.
Moz Keyword Explorer performs in-depth keyword analysis with the industry-leading keyword research tool.
Pricing: From $99.00 per month for a standard plan with an option to pay annually, in which case the price is $79.00 per month.
Serpstat is a leading SEO tool offering features that can help build keyword groups and clusters to improve your content structure.
This tool can create a cluster of keywords, and it also comes with customizable settings. Additionally, it can analyze your published posts and create keyword groups relevant to that page.
Pricing: From $69.00 per month.
Best Content Optimization Tools
Optimizing your content is the process of ensuring your content will reach the highest possible number of readers, which is not always an easy task. Luckily there are many great tools to help you with this.
This tool helps marketers write high-quality, engaging content for readers in less time.
Creating and producing content is challenging because you need to get the right keywords for search engines while making the content sound natural for readers. This process involves a lot of hard work. However, you can write with more confidence with Clearscope, so you don't have to question if you are missing an essential part of the content production process.
Pricing: From $170.00 per month for optimizing up to 20 pieces per month.
SEOTesting is one of the best SEO content optimization tools on the market because it automates numerous tasks throughout the entire content optimization process.
In addition, SEOTesting allows you to run important reports to understand the meaning of your current content and track changes so that clients can see your true value.
Pricing: From $30.00 per month for one website and a 14-day free trial.
SurferSEO is one of the most affordable content optimization tools available on the market. It includes everything you need to find great ideas for content and find profitable keywords that you can rank for.
It also gives you all of the tools you need to plan and create top niche content, with a helpful content score grading system so you can see the progress of your article as you are writing it.
Pricing: From $59.00 per month with an option to pay annually in which case the price is $49.00 per month.
MarketMuse is a cloud-based SEO software that enables you to make highly authoritative and comprehensive content thoroughly optimized for search engines.
MarketMuse assists with researching content for your articles, optimizing them as per the best SEO practices, comparing your content with other top competitors, suggesting improvements, listing FAQs, providing you internal and external link suggestions, and even creating automated content briefs and entire articles for you!
Pricing: From $149.00 per month for a standard plan with an option to pay annually in which case the price is $125.00 per month.
Postpace is a cloud-based platform that helps bloggers, marketers, writers, and groups to manage content marketing activities through automated workflows and data analysis.
Postpace enables content teams and professionals to organize, collaborate and run content marketing operations across multiple online channels. Postpace has data-driven decision-making ability, allowing teams to manage content quality, sentiments and relevance.
The platform allows users to create unique content and social media posts using different keywords to optimize content.
Pricing: From $17.00 per month for a Basic Plan with an option to pay annually in which case the price is $170.00 with 2 months free.
Best AI Powered Writing Tools
Here are my top choices for the best AI-powered writing tools to try right now.
Rytr is a great AI-powered copywriting tool available for use since April 2021. It is an AI writing assistant that helps you quickly create quality, engaging content.
Pricing: $9.00 per month with an option to pay annually in which case the price is $90.00.
Jarvis is a must-have on this listing because of its extremely impressive long-form content writer and the capacity to create content with clear commands.
This is one of the tools with the most features among all the best AI writers mentioned on this list. You will be able to use more than 50 templates to create different types of content, along with the ability to translate the content into more than 25 languages.
Pricing: From $29.00 per month with an option to pay annually in which case the price is $24.00 per month.
Nichesss is a fantastic AI-powered writing tool that does almost everything for you, from writing your blog to telling you what YouTube video to make next.
Pricing: Pro Account for $19.00 per month.
With WordHero's AI technology, you can make engaging blog posts, social media content, emails, and much more in just one click.
WordHero is a tool that reduces your time spent on online research and writing.
Many projects fail to launch because of poor copywriting, and this tool removes these barriers and helps you quickly establish your next high-quality project.
Pricing: from $49.00 per month with an option to pay annually in which case the price is $29.00 per month.
Best Written Content Creation Tools
While thinking about content production, we almost always jump straight to written content. And while other formats are an impactful way to use content to achieve excellent marketing results, written content remains the most used one for many companies.
Grammarly is a great tool that can help you check for spelling and grammatical mistakes in your content and help you focus the tone of your content, as well as check for plagiarism.
Pricing: There is a free plan with basic writing suggestions, however you can subscribe to a premium plan for $12.00 per month or a business plan for $12.50 per month.
The SEMrush content template is an exceptional tool to help you analyze the top-ranking content for your target keywords, and it can help you understand what you need to add to your content.
Pricing: From $119.95 per month with an option to pay annually in which case the price is $99.50 per month.
ProWritingAid is an excellent tool for grammar checking and editing for business writers. This tool is a content writing tool that helps in optimizing word choices, editing and grammar.
Pricing: From $20.00 per month.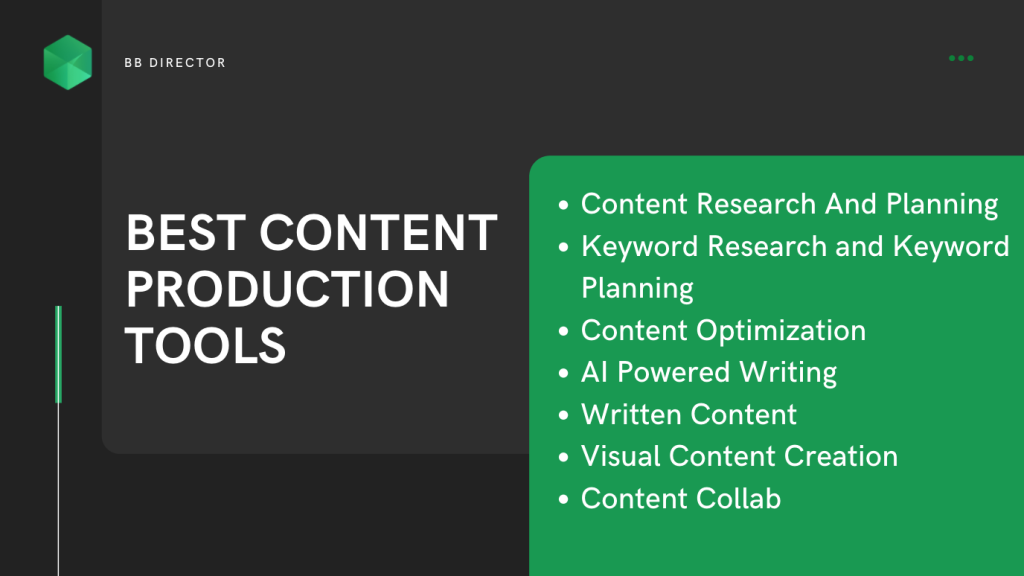 Best Visual Content Creation Tools
Ready to up your visual content marketing game? Try using these visual content creation tools to create content that will engage your clients.
Using this tool, you can choose from a wide selection of templates to create social media posts. The templates enable you to place a screen capture, for example, an image of your website home page, on a smartphone, laptop, or tablet stock image.
Pricing: From $14.95 per month.
With Magisto, you can take ordinary videos and make them exceptional with captivating text elements and animated effects. With this easy-to-use tool, videos become engaging stories.
Pricing: From $4.99 per month.
Doodly is a software program that helps you create professional doodle, whiteboard, and chalkboard animation videos.
This tool comes with a bit of a learning curve in creating doodle videos, but they are fun to watch and entertain.
Pricing: From $39.00 per month with an option to pay annually in which case the price is $20.00 per month.
Best Tools For Great Team Collaboration
The best online collaboration software and tools make it simple and easy for teams to work together on a broad spectrum of tasks.
From communication to project management, technology offers plenty of options. More new online collaboration tools can be found on the market every year while existing ones continually improve their features and functionality.
Microsoft Office continues to be the most used and, therefore, important office suite out there. But, at the same time, competitors such as OpenOffice and Google Workspace still don't offer the same level of functionality and ease of use.
Consequently, as Microsoft Office is expected to be at the heart of many businesses, the move to Microsoft 365 offers several benefits, including the ability for teams to collaborate directly on the same set of documents.
Pricing: From $5.00 per user per month for Microsoft 365 Business Basic.
One of the many things that makes Ryver a compelling option is creating as many teams as you want within the app and quickly categorizing them. Additionally, you can use the platform to set up chats with groups and individuals.
With this tool, you can easily control who sees what you say and post in the app. All company posts are located within a Facebook-style newsfeed, and you can mark posts to come back to them later on.
Pricing: $49.00 per month with a 14-day free trial.
Quip is a fantastic tool that allows easy file sharing with a group chat and has direct messaging features. With Quip, you can work together with your team in real-time.
So now it's easier than ever to get the big-picture of your business.
Pricing: From $12.50 per user per month.
Conclusion
As you can see, there are many great tools to use for your content production. However, sometimes, choosing the right tools can be a challenging and time-consuming process. That's why in this article, you have all the information you need to choose the right tools and start creating and producing unique and appealing content.
If you are not sure which tools will suit your needs the best, we can always do a quick 30-minute free call the help with your choice.
Thanks for reading this article!
If you have already decided on which tools to use, but you need a system in place to effectively use them, check. our proprietary system specifically made to accommodate and scale content production at ease: https://bbdirector.com/long-form-content-production-system/
Hope you found it to be helpful and insightful. As always, looking forward to answering your question and reading your comments in the comment section below!
And of course, if you find content production interesting, don't forget to check these articles:
3 Effective Content Production Systems
8 Best Steps On Creating A Content Production Plan & Schedule
12 Best Content Production Tips and Tricks