Content production planning helps you establish an excellent and consistent workflow that plays a vital role in managing your content production process.
You undoubtedly know how tough it is to have high-quality content produced and published on time.
A well-constructed content strategy is essential for attracting new customers and growing your business. But, you will never execute one without a structured and organized content production plan and schedule.
Continue reading and learn all there is about creating an efficient content production plan and schedule.
What Is A Content Production Plan (Calendar) And Why Is It Important?
Consistency is incredibly crucial to content success. Excellent new ideas and sparks of creativity help, but you can't rely on them alone. They're inconsistent and unreliable. So content has to be done frequently and regularly. That is precisely where content calendars come in.
A content calendar also referred to as an editorial calendar, is a schedule that helps you plan when and where to publish your upcoming content. Content calendars usually include forthcoming pieces of content, updates to existing content and planned promotional activity,
If your blog is a hobby or something you write in your free time, you probably don't need a content calendar. But if you're using content marketing and production to grow and improve your business, then staying organized is the key.
Here are three ways of how content calendars help your content production strategy:
First, a content calendar ensures that all of your content-related assignments and responsibilities are happening on time and as planned. If you're not organized with your content writing and production schedule, you'll forget important things, publish an article less often, or neglect to update old articles. A calendar ensures that none of these things happens.
Second, a calendar makes it easier for you to collaborate with your marketing team or your colleagues. If employees and contractors write or edit your content, you need something that keeps everyone informed and on the same page.
Third, a content calendar gives you a summary of your upcoming stuff. That way, you can see your entire marketing strategy for the next few months or even a year right in front of you.
What Is A Social Media Calendar?
A social media calendar can give you a clear picture of the upcoming content and social media posts. These calendars are most often organized in the form of spreadsheets, interactive dashboards, and Google calendars.
Using Social media calendar, you can keep track of what's trending, and this will keep you updated regarding the content consistency and quality.
It helps you to prevent low-quality and less exciting content from posting. In addition, it keeps all the necessary updates of the content and lets you plan.
Content Calendars act as the scheme of your business. It plans out what content needs to be shared and promoted across all the marketing channels. In addition, using a well-planned and organized social media calendar helps you define the optimal frequency for posting and updating content.
How To Build A Content Production Plan (Calendar) In 8 Easy Steps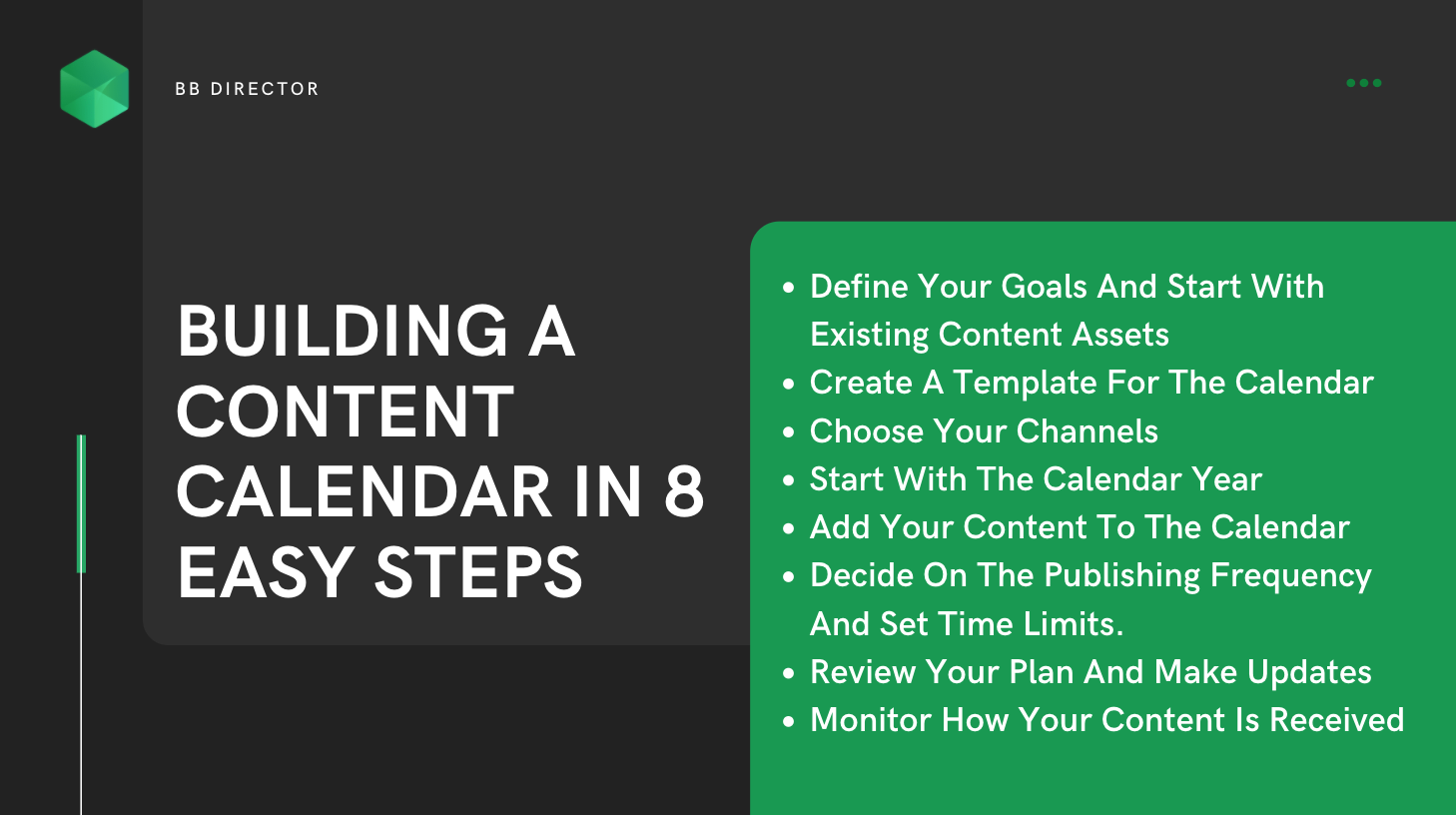 Creating a content calendar from scratch sometimes may seem like an impossible task. But, it's much less complicated than you think it is.
Here are eight easy steps for you and your team to follow and make the building process of the content calendar an easy task for everyone involved.
Step 1: Define Your Goals And Start With Existing Content Assets
Defining your goals should be the first step to implementing a content production plan. Creating content without a clear plan will not be beneficial to your company or brand. It will only waste resources. In addition, the person working on each project or item on the calendar should have a clear picture of the expected results.
You shouldn't focus much on creating new content, but instead, you should be focusing on creating more with less. Developing and producing all your content from scratch is unnecessary since you can reuse valuable content with changes and updates.
See what can be repurposed by taking notes of all your existing content and resources.
Take a look at these few examples.
First-hand data or research: While you use that data reliably, leverage your information or analysis to create infographics or news stories.
Colleagues and coworkers: The work and expertise of your colleagues can be recorded for video, audio, or transcribed interviews.
Whitepapers or reports: Split more significant content pieces into a series of blog posts or social takeaways on the same topic.
Old blog posts: Make insignificant adjustments and update with new and fresh information. If they're all on the same subject, combine them into a whitepaper or eBook.
Step 2: Create A Template For The Calendar
Many tools offer calendar features on the web. So naturally, you can choose whichever template suits you best. However, as adopting new software can be exhausting and take a lot of your time, your content calendar can be as simple as a basic spreadsheet.
The calendar should have a share option if you're creating or planning content collectively with your team or your entire firm. For example, creating a calendar template with the free of charge Google Sheets tool allows anyone participating in the projects to edit the calendar on their computer to add comments and ideas.
Step 3: Choose Your Channels
Find out which channels your current and potential customers are using. It will help you define the kind of content you should be focusing on creating and producing.
It can be beneficial to release content on various platforms and in multiple formats, broadening your viewers.
Start by making sure you have a sufficient number of resources to focus on the media of your choice. Then, prioritize your most important channels and focus on creating high-quality content instead of aimlessly posting on all of the platforms you can think of.
Step 4: Start With The Calendar Year
Use the calendar year as a starting point when you start to plan your content. First, mark all important events you want to build your content around, like holidays, seminars, and training. This step will help you settle on the content you will need in the future and help you estimate the upcoming amount of work, which allows you to prepare for it in advance.
Step 5: Add Your Content To The Calendar
Once you write down and record all of the important dates and events for your brand, start to fill in the calendar with your content ideas and creations.
Make sure that you have enough relevant and unique ideas first, having a variety to your content to make it easily readable and engaging. And don't forget, make use of prior content.
Step 6: Decide On The Publishing Frequency And Set Time Limits
It is essential for you o know how often you can realistically publish new content. Although creating and producing content is not an easy task and can be time-consuming, you need to choose a publishing rate that works for you.
Knowing and understanding your limits is crucial to the efficiency of the calendar. If it is too full, the quality of the content may suffer, but also, there should be a good amount of content to create traffic on your website and engage with customers regularly.
Step 7: Review Your Plan And Make Updates
There is no definitive answer to how long in advance you should plan or create your content. Planning depends on multiple elements.
However, you should note that the further you plan your content, the better the workflow stays constant and uninterrupted. A simple guideline that will help would be to prepare the content for the whole year ahead and then make more detailed changes to the weekly and daily content for the following month.
The possibility of individuals sharing their thoughts and opinions when needed is a good idea for your team. You could review the content calendar regularly. It will help you quickly adapt to possible changes.
Step 8: Monitor How Your Content Is Received
One of the significant aspects of digital marketing is that almost everything can be calculated and measured. However, after a company spends a considerable amount of time creating and sharing high-quality content, estimating the effects of the content is often forgotten.
Once you learn what kind of content interests your audience and potential customers, you can create and produce even more exciting and engaging content for them in the future.
The Benefits Of Using A Content Production Plan (calendar)
A content production plan helps you organize and improve your upcoming content by detailing the type of content and the time and place of posting.
With this in place, you'll spare yourself the hard work and panic of coming up with the topic right before it's time to write your next post before the deadline.
Some of the main benefits of creating and using a content calendar include:
Keeps You Organized And On Track.
Writing your content topics on pieces of paper, post-it notes, and in some notebooks isn't a reliable method of organizing your work, and there is an easier way to do this.
A content calendar will give you a better perspective and view of your overall marketing strategy. You'll be able to better coordinate your content topics with your social media and email marketing. Besides, it will help you improve the quality of your content and prevent you from missing your content's deadline.
Excellent For Brainstorming.
When you start organizing and creating your content topics with your team, the chances are that you will end up with lots of new and great ideas, which will lead to more engagements from your audience.
Working together with your team may bring you many benefits and fresh ideas that give results.
Executes Your Social Media Marketing Strategy
Content and social media marketing are connected in many ways. For example, a social media content calendar can help you identify the most outstanding content pieces you have created. Then, you can use them in your social media advertising to gain lots of traffic and a new audience.
Find out your best-performing eBooks, videos, infographics, whitepapers, and other valuable content on social media channels. Then use them for paid promotion via Facebook ads, Instagram ads, or LinkedIn sponsored content to get your message across as many people as you can.
Keeps Your Audience Engaged
When you're in a rush to publish something, you might fail to check if you have covered a similar topic before.
Similarly, randomly picked topics that don't make a connection with your audience can hurt your engagement. However, a well-planned content calendar will allow you to spot such mistakes, so you only publish fresh and relevant content, which will keep your audience engaged and interested in what you have to offer to them.
Keeps Track Of Your Performance
Measuring the success of your content and marketing efforts is possible only if you observe your performance.
Keeping a record of the performance of your posts can bring you many benefits and data which you can use to enhance the quality of your content.
Ready To Create Your Content Production Plan (Calendar)?
You've learned what makes up a great content production plan, why they're helpful to you and your projects, and how to use them most effectively.
Now that you know all about social media calendars and their importance. And, with all these great motives to start using a collaborative content calendar, you don't have an excuse not to start today and create one yourself.
It's a lot of work that is well worth the extra effort, and your team will thank you for it.