When you create content, you provide helpful information that is free to your audience, attract potential customers to your website, and retain existing customers through quality engagement. We'll talk about some content production tips and tricks to help you achieve all of the above.
Creating and producing content is a great way to make your business, brand, services, and products known to the audience.
But, how can a brand distinguish itself if every company creates and produces content? Find out the answer to this question in this post and learn how to stand out from your competition.
You will learn how to boost your business performances using content production, and you will find plenty of actionable advice you can implement immediately in these tips and strategies I'm about to share with you.
So, stay tuned!
Why Is Content Important?
The content you create communicates your message, educates your readers, and influences them to use your services or purchase your products over your competition.
Creating and providing high-quality, informative, and engaging content is one of the best things you can do to attract new clients and generate interest for your business. In addition, through the high-quality content you create and produce, you establish yourself and your brand as trustworthy and professional in your field.
Unique pieces of content can help you become more visible online, in media, and in search engines. Quality content increases traffic to your website and helps you build authority with search engines.
Though I only mentioned just a few, you see that your company has many benefits from creating excellent and engaging content.
Continue reading to learn all the tricks and tips for creating one-of-a-kind content we have prepared just for you!
What Makes Content Engaging?
Engaging content is attractive, easy to read and understand. It immediately grabs your attention and makes you eager to learn more. Exciting content is valuable enough to attract and hold a reader's attention. In addition, it provides some kind of reward, like solving a problem for the time spent consuming the content.
This content gives the audience a glimpse or educates them about something they haven't seen or heard of before, but in a way that they can still relate to it.
This is the key to making an emotional connection with them, which you will find out is very important for later success.
Engaging content gives the reader a new perspective, exciting knowledge, or something useful or entertaining.
It tells a story that draws readers in, makes them thirsty for more of your content, and ideally for the services you provide or the product you sell on the market.
Content equals business growth.
Content Production Tips and Tricks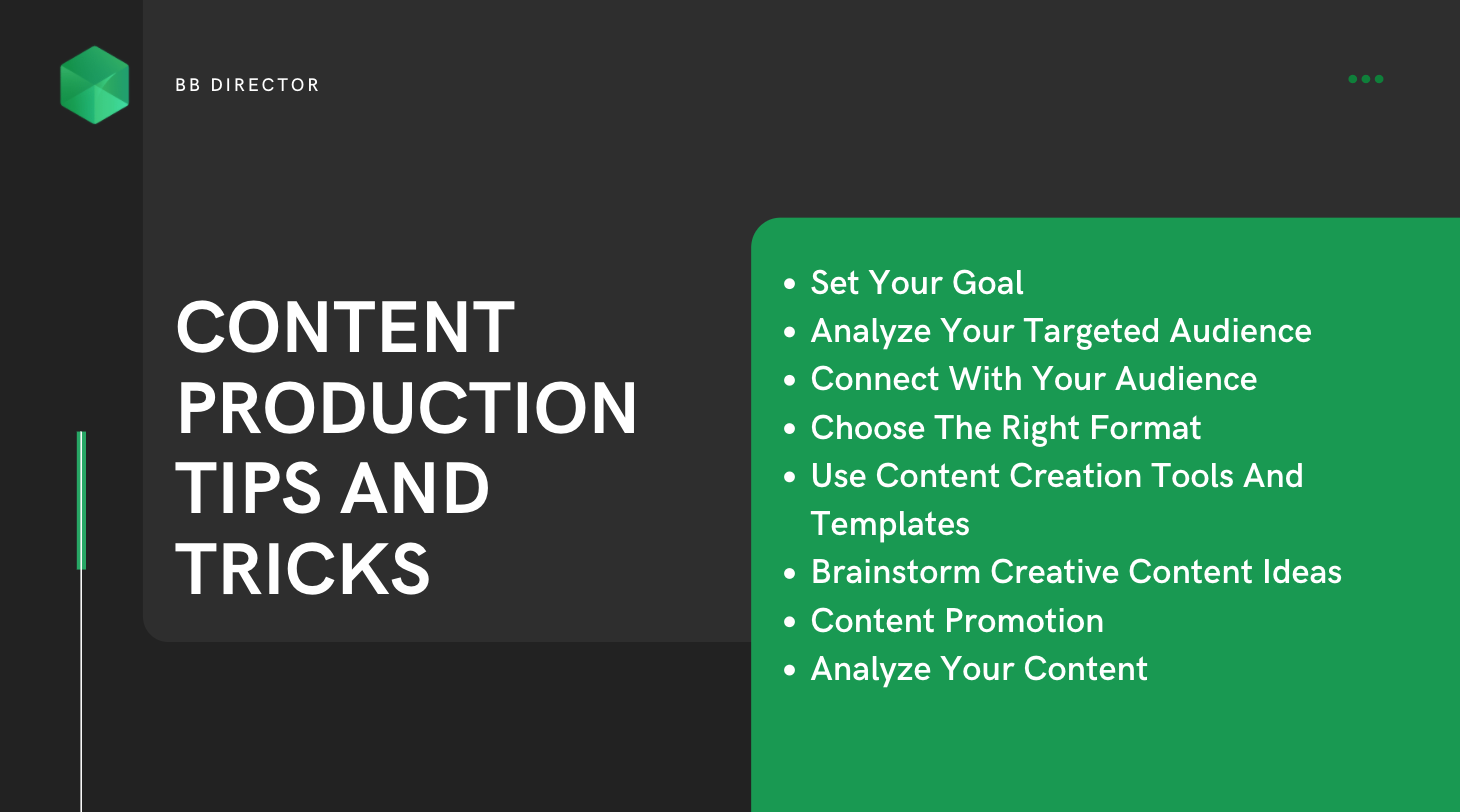 Quality content starts with an understanding of your audience, their problems, and their needs.
People want content that solves the real problems or issues they have in their lives. So it is not enough to blast a message with your image or brand.
You must connect with your potential customers and understand their needs for your content to be effective.
Set Your Goal
Similar to traditional marketing, your content strategy should be centered on your company goals.
Your goals could range from attracting more customers to your website to increasing your sales and anything in between.
Once you set your final goal, each piece of content you create and produce should be aligned with that same goal and contribute to your aimed and planned outcome.
Analyze Your Targeted Audience
The secret to creating successful content appealing to the readers is to make each reader feel like you are speaking directly to them. But then, you need to start thinking like them.
Ask yourself, what do they want? What do they need? What problems are they having, and how does your product or service provide these needs and wants for them, or how do they help solve their problems? You should be aware of their obstacles, their challenges, and fears. In addition, you should know and try to understand their best possible outcome and their dream solution.
Give us a 30-minute call and let us help you find 1000 people on LinkedIn that fit your audience for free.
Ideally, you'd want to be able to speak directly to every individual that reads your content, but unfortunately, you can't. However, there is a solution, create a buyer persona.
The buyer persona represents the person you want to reach with your content; the character represents your target audience or the consumer of that content that is most likely to benefit from your message and become a paying customer.
Always try to remember that you are communicating with people that want to feel connected.
Connect With Your Audience
Your clients drive your business, which is why it's essential to know how they interact with your brand. You can learn plenty by listening to your clients and staying connected to them.
Connecting with your clients is a crucial step in the content creation and production process. It helps you choose the right type of content to create, as you know your customers on a more personal level.
Connecting with your clients means more interactions and referrals, better experience, and more sales, which will lead to growth and more profit for your company.
Remember, people buy from people and companies they like and trust and, most importantly, feel connected.
Choose The Right Format
You should always be creating content in a format that is most easily and enjoyably consumed by your targeted audience represented by your persona.
The format you choose for your content might be a blog post, video, Slideshare, graphic, ebook, whitepaper, podcast, or whatever you want it to be, as long as it serves your persona.
Use Content Creation Tools And Templates
With the right resources, you can do better research and develop high-quality and exciting content for your clients.
Content templates can accelerate your creation process, giving you more time to spend innovating.
Brainstorm Creative Content Ideas
Coming up with creative content ideas is not always an easy task.
When you're excited about your new project, you might find that some ideas come even faster than you can use them. But your company should run at the same speed even when you're feeling creatively drained.
When you are struggling to get going, we are here to help get you up and running. Get 50+ articles researched, written, and uploaded online every month.
Sometimes you just need to step away from your workplace and go for a walk. Performing some unrelated activities can benefit you, help your mind reset, and approach the task from a new fresh angle.
Content Promotion
Your persona should guide your promotion plan.
You should ask yourself these questions: Where do they spend most of their time online? What time of day do they use a particular platform? How much do they want to see content from you?
Keep in mind that content promotion is just as crucial to your strategy as whatever content you create.
Analyze Your Content
The final step in content creation is analyzing your content and gathering data. Without it, you can't know what's working or how to improve your work. You can't make good progress.
Boost Your Business Performance Using Content Production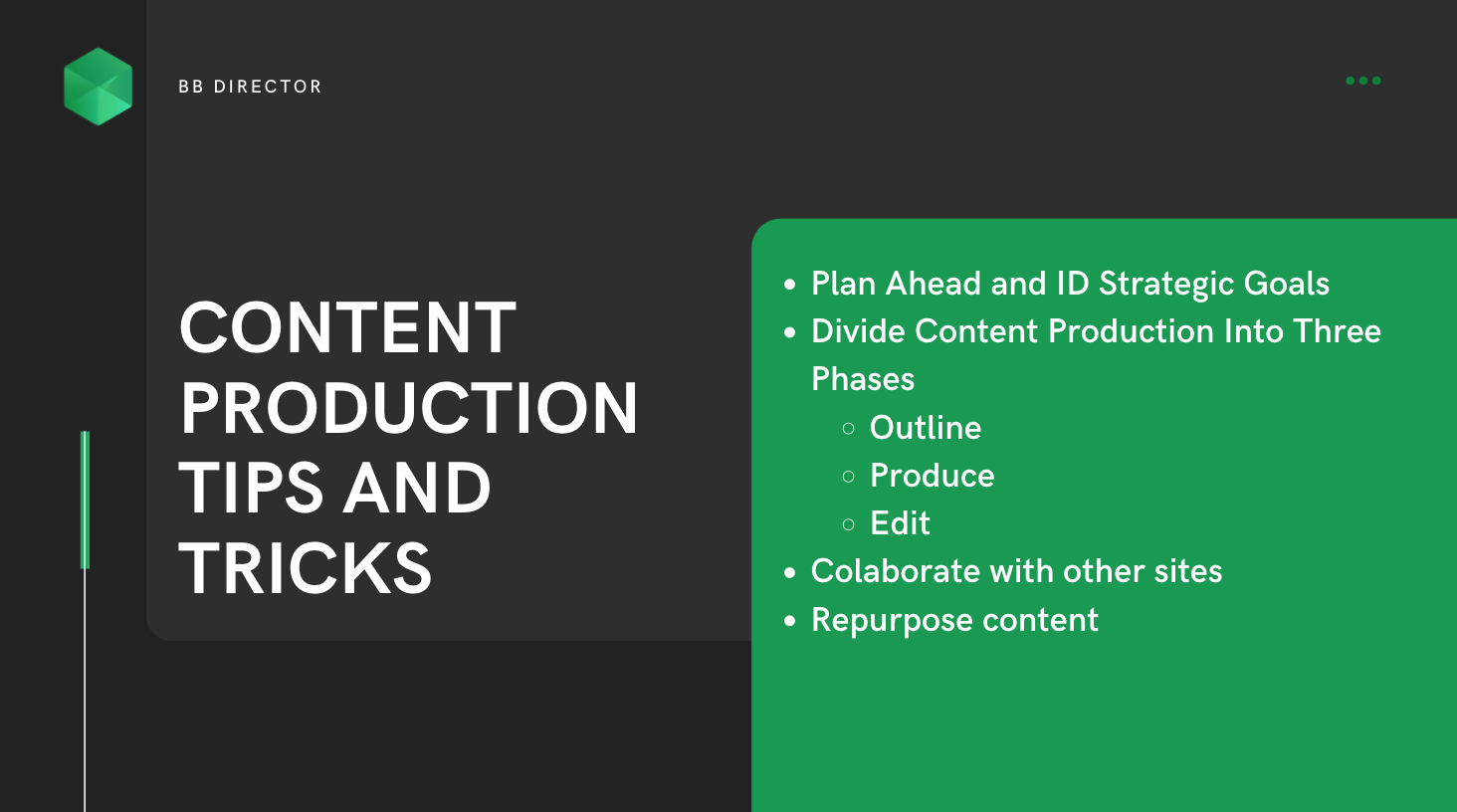 If you are planning on creating even one blog post, or paper, or video as a part of your marketing strategy, you need to have an effective content production process in place. Here are a few steps to show you how you can do that.
Plan Ahead
If you want to produce great content that moves you toward your strategic goals, you will need a plan because, contrary to what most people say, we don't work better under the pressure of passing a deadline.
You can start by identifying strategic goals and then determining the best ways and tactics to achieve those goals.
The next step is, plan and schedule the content development necessary to execute those tactics for the next six to twelve months.
This should give your desired results.
If you want to take this a step further, you can even use a project management system to schedule all of the work associated with the content you have planned.
This helps you manage everything effectively and provides a solid strategy with the right resources for accountability if you're working with a team.
Divide Content Production Into Three Phases
Outline. One of the most efficient ways to produce a piece of content is to create an outline, which transforms the concept into a structured document to organize before you begin to write. This helps to keep your thoughts on track.
Produce. Next, begin writing, but don't do the editing as you go. Ignore mistakes in typing, errors, and poorly worded sentences for now. Once you've completed the content for subheadings, you can now write an intro and conclusion. Writing these at the end, rather than linearly, will make them blend more smoothly into the article.
Edit. Finally, edit your post.
Collaborations
Collaboration can be a great help for any type of content. It helps reduce your workload, resulting in more content for you and exposure for your collaborators, so it is a win-win situation for everyone.
Repurpose
You can repurpose a post into a video or podcast or rewrite it as a guest post on other websites.
The secret here is to make it as unique as you can each time, changing it to match the audience's needs and interests.
It's also important to let some time pass between publication dates. You don't want it to be used too frequently or in too many places.
4 Content Production Tips To Keep In Mind
Here are five tips for you to consider implementing on how to maximize your content production.
Focus on quality. Always use content that speaks to your targeted audience. It's not all about getting as much content as you can. Quality is more important than quantity. Your competitors are also making an effort to create such projects. Therefore if you want to stay ahead, you need to come up with unique content.
Do one thing well, then expand. You should focus on one thing at a time, one channel, video, or one post. Once you see what is gaining attraction, you can begin to repurpose that content and fit it into new media and formats. This means multiplying your effective content output without multiplying your work and effort.
Develop an editorial calendar. Getting on a schedule and making a plan for all your future work is essential for the success of your content production. Whether you want to publish a new post once a week or once a month, an editorial calendar will help you plan and reach your goals.
Determine your author's voice. To maintain consistency across the entire content, it is essential to think about your "author voice." It is either 1st, 2nd, or 3rd person narrative, and it can be distinguished:

1st person narrative: Gives advice and opinions based on personal experience using the pronouns I, me, mine.
2nd person narrative: Directly addresses and speaks to the reader using the pronouns you and yours.
3rd person narrative: Advises the reader as an objective third party that is not directly involved using pronouns such as he, she, it, and they.
Final Thoughts
The great thing about planning and creating an effective content production process is that you only need to do the hard work once. Every update and alteration you'll do after that will only have one purpose, to optimize your workflow.
Using these tips and strategies will save you a redundant amount of work every month.
Most companies are not yet familiar with the core of content production. Use your newly gained knowledge from this post as an advantage and see your company rise above others.
Thank you for reading this article, and don't forget to share your thoughts in the comment section below. And of course, if you are interested in learning more, click on this link and see a few tips on improving your effectiveness, work smart, not hard.
Summary
To be successful in any business, you need to understand why content is such an important part of marketing, and you need to learn how to create a solid content creation strategy. In the first instance, this may seem like an impossible task. However, this is where this article comes to the rescue!
With all the guides and pointers mentioned in this article, you can create the best content in no time! You learned the eight steps of the content creation process, and you are up to date on how to boost your business performance using content production.
This article covers some of the best tips and tricks for creating and producing content and teaches you to work with a team in a more streamlined fashion. In addition, it educates you on how to make more insightful content with much fewer resources.
With this article, you have all the insight you need to start creating and producing a variety of quality content that can significantly benefit you and your company, eventually leading to more engaging and paying customers.