Brands and businesses are using content production tools to get the attention of their audience and customers, which leads to an increase in sales and more profit for them.
You can do this as well by creating and producing engaging and exciting content topics for your audience.
Creating appealing, readable content is not always an easy task. That's why from this article, you can gather all the knowledge and tools you need to boost your content production process and get better results with much less effort.
However, if you need help with any urgent task coming your way, we are just a click away.
Content production tools
In this article, you will discover some of the best-rated and most useful free tools you need to know to create mistake-free, appealing content, speed up your content creation and production process.
Research And Planning Tools
Coming up with an inspiration for new ideas for your content may be the most challenging part of the whole process and the most important one. Creating content without a plan makes it harder for you to focus on the quality and takes a lot more time.
Here you can find a whole set of tools designed perfectly to help you research and plan your content.
SparkToro
This tool can help you and your brand does better marketing. Specifically, it can assist your organization in quickly and accurately identifying where your audience spends time and pays attention so that your marketing efforts can be better targeted and more effective.
It comes free of charge, or you can upgrade to a basic, standard, or agency plan. The prices start at 38.00$/month, 122.00$/month, and 225.00$/month.
Google Trends
Google Trends gives you information about the popularity of search topics on Google. For example, enter a search term and see how the subject has stranded over time. You can use this insight to create trendy and exciting topics for your audience. Similarly, identify the issues that are likely to start losing popularity.
You can start using this tool today for free.
Answer The Public
Answer The Public listens to data from search engines like Google, then quickly cranks out every useful phrase and question people ask around your keyword.
It's a goldmine of consumer insight you can use to create fresh, ultra-useful content, the kind of products and services that your customers want.
This tool comes free of cost and can be updated to a pro account for 99.00$/month or an expert account for 199.00$/month.
AlsoAsked
AlsoAsked collects, organizes, and displays "People Also Ask" data in Google search results. You can interact with this data on the site to explore it, export it to image graphs for quick presentation to clients, or into CSV format to process it with other tools, saving a tremendous amount of time.
If you are involved in content creation, production, or planning, you can see a great benefit of this tool. AlsoAsked gives you fast insights which can help you quickly improve your content, satisfy users and help improve your search rankings.
Best of all? AlsoAsked comes free and allows you to do 1000 searches in a month.
Keyword Research Content Production Tools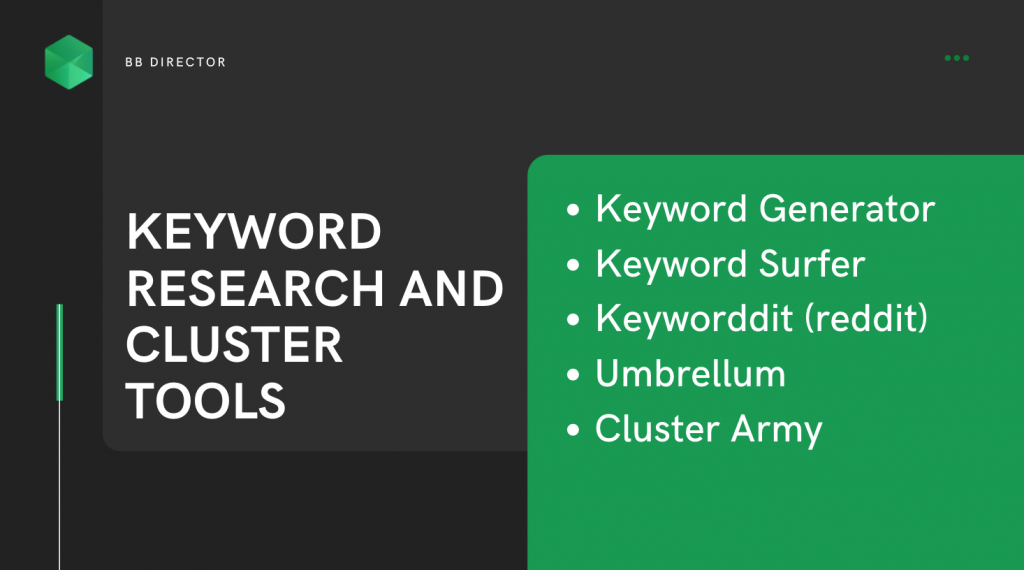 Looking to find great keywords for your content on a budget? You are in the right place!
Keyword Generator
Keyword Generator can find up to 150 keyword ideas for any given keyword. Here, You can switch the search engine and find keyword ideas for Youtube, Amazon or anything you want.
Keyword Surfer
Keyword Surfer is a free chrome extension that gives search volumes for any word typed into google.
You can start using this great tool today free of charge!
Keyworddit
Keyworddit is a fantastic tool that can pick keyword ideas from Reddit and is a great starting point if you have little to no knowledge about a niche.
Beyond ideas, this tool also gives estimated US monthly search volumes for each keyword so that you know the popularity of different topics.
Best of all? It's free!
Content Production Tools For Keyword Clustering
Keyword clustering is a trending keyword organization system that helps SEOs and content marketers deal with keyword data.
Umbrellum
Umbrellum is an excellent tool for finding new keywords to rank for, keeping track of your rankings, and tracking everything happening on the Google search result page.
This tool comes with a 14-day free trial.
Cluster Army
Cluster Army is a great free tool that can generate keywords clusters. You just need to enter a list of words in this keyword cataloger, and the longer the list, the more precise the cluster assignment will be.
This tool comes completely free of charge!
Content Production Tools For Content Optimization
Optimizing your content is the method of making sure your content can reach the highest number of viewers possible.
MarketMuse
MarketMuse is a tool that uses Artificial Intelligence to obtain data from all the top-performing online sites in a specific search term.
Based on the information, it provides choices as to how long your research on the same subject will be and the related keywords and subtopics to be used.
This tool provides a free version of optimization tools. But, to engage more in complex actions, MarketMuse pricing starts at $499 a month.
There is also a free trial for new customers.
Hotjar
Hotjar includes a series of tools that can help you generate heat maps, funnel tracking, user polls, surveys, and everything qualitative.
The pricing starts at $0 and goes up to $389 per month.
Content Production Tools For Writing
When you think about content creation, you must first think about written content. And while other formats are a great way to use content to get the wanted marketing results, written content remains the default format for many businesses.
With that in consideration, here are some of the best free tools you need to know.
Grammarly
It might sound simple, but creating spot-on content is more complex than it sounds. Grammarly can help you check for spelling and grammatical errors while writing.
The browser add-on also makes your writing more accessible and makes sure your content is free from errors. In addition to automated grammar, spelling, and punctuation checks, you can receive suggestions to improve your choice of words, avoid inconsistencies and do a plagiarism check if you are using the premium or business plan.
You can start using the free version or upgrade to a premium plan priced at 12.00$/month or the business plan priced at 12.50$/month.
Thesaurus
Thesaurus is a very straightforward tool and makes it effortless to navigate and helps you find the perfect word for every situation.
It comes completely free and online.
Hemingway Editor
Hemingway makes your writing bold and clear. It's like a spellchecker, but for style. It makes sure that your readers will focus on your message, not your prose.
All it requires is parting your written content into the Hemingway App, and it will highlight where your writing is too dense, so you can make a few changes and make them more readable for your audience. It also offers a grading for the reading level of your content.
Hemingway Editor comes at no cost. Additionally, you can get the Hemingway app for PC or Mac for 19.99$
Visual Content Production Tools
Including visuals in your content can make it more enjoyable and more readable to your audience. However, creating visual content is one of the biggest challenges for marketers. Here are some tools that can be of great help.
Canva
This tool is for people and teams designing absolutely anything, from logos and social media content to documents and prints. There are tons of free templates, photos, and fonts to bring your vision to life.
There is a free and paid plan-Canva Pro that costs 119.99$/year and comes with a free 30-day trial.
Unsplash
Photos and images can make your content more engaging and attractive for the audience. Unsplash is a great tool when you need license-free images to use in your content.
You can start using Unsplash today free of charge.
Adobe Spark
Adobe Spark is a content creation tool that lets you effortlessly combine images, text, and video for better and more exciting storytelling.
You can create a starter plan for free, upgrade to an individual plan for a 9.99$/month with a 30-day free trial, or upgrade to a team plan for 19.99$/month.
Lumen5
This app lets you quickly make videos for content marketing, thought leadership, and brand awareness. Lumen5 quickly transforms articles and blog posts into video content.
The prices start at 0.00$ for a free plan and go up to 149.00$/month for a business plan. Also, there is a creator plan that comes with a price of 11.00$/month and a premium plan with a price of 59.00$/month.
Powtoon
Powtoon is a user-friendly, intuitive, and insightful platform. With this tool, you can create engaging and appealing visual content with a professional look and feel in only a couple of minutes.
You can use this tool for free or update to a paid plan that comes at a price of 19.00$ monthly.
Content Production Tools For Collaboration In Your Team
To create content more effectively, you need to collaborate with others. For this, you will need a tool to keep track of your projects and share files with the people in your team and with your colleagues.
Here are some of the best free tools you can use to ease your communication and collaboration with them and make your work more effective.
Google Docs
Google Docs is a cloud-based writing and editing platform that allows more people to work on one document simultaneously. In addition, it comes with the ability to specify access privileges to other people you want to share a copy with.
This tool is great for everyone because it comes at no cost and is entirely free. If you're interested in finding out how to build a content production process within Sheets – check our founders' guide here: https://viktori.co/content-production-system-that-shells-500k-words/
Trello
A productive team means using a powerful tool that helps you, from meetings and projects to events and goal setting.
Trello lets you work collaboratively and get more work done as a team. You can easily organize your team by creating boards, cards, and lists to manage your projects and set deadlines.
The price for Trello ranges from 0.00$ for a free plan to 17.50$/month per user for an enterprise plan. In between, you can find a 6.00$/month for a standard procedure and 12.50/month for a premium plan.
Content Production Tools: Analytics
To optimize content creation, you must know what type of content you produce generates results. This type of insight will help you make smarter decisions about your upcoming content.
These tools will help along the way.
Google Analytics
Google Analytics gives you all the free tools you need to analyze data for your business in one place. In addition, it can be used to understand your content performance across different platforms.
You can use your insights from this great app to deliver your wanted business results, and we can also be of great help here. So feel free to check this link and contact us.
Google Analytics offers two plans, one free and one paid, which is called Analytics 360.
SimilarWeb
SimilarWeb provides information about traffic and engagement on your website. This information is valuable for performance analysts and eventually helps you plan your content accordingly.
Here you can find a free plan and a paid one that includes more features and requires you to a rep for a consultation.
Conclusion
There are many other content production tools available. However, in this article, you can find some of the best tools needed to create an exceptional content creation process that benefits you and your team, but most importantly, your clients.
We have covered every step of the content production process with these free tools. Can't decide which one will suit your needs the best way? We can do a quick free 30-minute call to help you with your choice.
Or check out our process of creating long-form content fast and efficiently:
Don't forget to share your thoughts with us in the comment section, and stay tuned for our upcoming posts on content production.
Summary
A new content production process is always in need of assistance. To speed up and improve the process, it's helpful to have some content production tools that help you to enrich and organize your content production process.
You can use different kinds of tools to help you manage the process. For example, some tools help you write, others help you edit, and some allow you to implement a whole content production process.
This article lists all kinds of free tools that anyone can use and come in handy when you need to brainstorm ideas, write and edit content, collaborate with your team, and analyze your results. It can help you from start to finish with the content production process.
Now, with all the resources you have at your disposal, content production becomes an easy task that you can master quickly.