Content distribution is the process of strategically marketing your content to generate maximum visibility and engagement.
How important is content distribution? Knowing how and where to distribute your content is the second most important thing in content marketing.
Twitter and Facebook are the two most popular social media sites on which you can share your content, but there are plenty of others that you should be using as well. The trick is to use them all together in a strategic way so that no piece of great content goes unnoticed.
The whole purpose of a business blog is to produce evergreen content that your social media followers will consume. This way, you can share your industry insights and knowledge on a regular basis. But how do you distribute this content so it reaches the most people possible?
Content distribution is a process by which you can increase the reach of your content. It's the act of getting your content in front of more people, and we all know that more eyeballs on your content mean more exposure, and ultimately more traffic to your site.
The key to content marketing is to provide valuable, interesting, and useful information in a way that will appeal to your target audience. Quality content that provides valuable information and entertainment will increase the value of your brand and get more return on investment (ROI).
This method must be combined with other forms of content marketing such as infographics, memes, videos, etc. The idea is to not only create valuable pieces of content but also use different types of media and formats and publish them together for maximum exposure.
The first step to distributing your content is deciding where you want to distribute it. Chances are you already know where most of your audience hangs out online – Facebook, Twitter, Google+, LinkedIn – but there are thousands of other platforms out there that could also be a good fit for your brand.
If you're looking for answers to this question, keep reading! In today's article, we will be sharing some tips and strategies that can help your brand with its social media content distribution.
Need to first plan your content production? Read our guide on creating a content production plan. Don\t have a strategy yet? Follow our easy steps to create a consistent content production strategy for your brand.
Social media distribution tactics
Social media distribution tactics are the methods that you use to make your social media content reach as many people as possible. The more people who see your social media posts, the better.
Steps to take:
First, plan out which networks you want to focus on. Start with one or two platforms and build up from there. Look at your competitors for inspiration if you are not sure how you can start.
The next step is to figure out what kind of content will be most successful on each platform
The social media landscape is changing. The big guns like Facebook and Twitter are still going strong, but there's a new generation of social networks on the rise. These networks have different audiences, more controlled environments, and various strengths and weaknesses.
Business owners no longer need to focus their efforts on just one network – they can now spread their businesses across multiple social networks simultaneously.
Social networking has been a valuable marketing tool for many years, but it is still not being used to its full potential. The advent of social media networks has made the task of distributing content easier, but to be successful you need to take the time to learn the intricacies and nuances of each platform.
What is important in one network may be irrelevant in another. Combining various platforms and using them in tandem with your site allows maximum exposure for your business and attracts new customers.
This article will provide an overview of 4 of these networks: Facebook, Twitter, LinkedIn, and Instagram. It will also explain how each network differs from the rest.
Content Distribution Networks For Online Marketing
Article marketing is a great way to get your content out there, but it can be time-consuming. Content distribution networks have been designed for just this purpose. They can help you distribute your articles to popular websites that will increase traffic to your website.
With these services, you can create free press releases and submit them directly to Google News to drive more traffic to your website. They also offer services to write the press release for you, so that all you have to do is submit it for publication.
Some of the distribution channels we go through:
Social Media: Twitter, Facebook, and Google Plus
Content Aggregators: Medium, LinkedIn, and Quora
You should distribute your content on both social media and content aggregators to attract a wider audience.

Facebook
Distribute your content with Facebook, one of the most popular ways to share your content online. It is not only easy, but it is also free. There are few simple steps to follow if you want to create a Facebook post that will help your business grow its followers and fans.
Create quality content for your page. The main goal of posting on Facebook is to spread the word about your brand or organization's activities. You want people to see what you have to say, so make sure the content you provide is relevant and interesting so they will engage with it.
Your goal may have been to know who your target audience is, but often what you want and what actually happens don't match. If you have already published content, then you can determine exactly who your audience is. No matter how few followers you have, any data is better than none. From our perspective, the only way to go is up!
Google Analytics is a service offered by Google and it is used to track and report website traffic. But it's not 100% free. On the other side, there is Facebook Insights, which is a 100% free and useful tool that analyzes the social audience.
Facebook is the largest social network in the world. The number of daily active users on Facebook has been steadily increasing, reaching 2.89 billion active users per month, and 1.91 billion active users per day. The average time that these users spend on Facebook per day is 20 minutes.
With billions of pieces of content that are shared daily and millions of business pages on Facebook, competition becomes intensely aggressive.
You want to think about the content they're creating and look for ways you can improve. Learn how you can be better than your competitors.
How to choose a topic for your blog,
What websites and Facebook pages do they share,
Who they cite and quote in articles,
Who they have partnered with,
Which social distribution channels do they use, and
How they structure their content
Getting readers requires that the content is something they want to read. If you can give them what they want, then more people will be inclined to read it. Everything we talk about in this post is meaningless without your audience. But how do you get your audience to engage with your content? In order for your content to resonate with your audience, you must make sure it touches the right chord with them.
Not all people from a group will be interested in a certain kind of content especially if you are targeting multiple groups. If you create a post that does not interest a particular group then that means less traffic and lesser engagement for your brand page. You need to know what content your target audience likes and dislikes so as to avoid creating something they hate or dislike.
People want things that are valuable, different, or both.
The only way you can create content that will make them sit up and take notice is if it gives them what they want in terms of their values and expectations.
Since fewer and fewer free distribution options are available, Facebook is making businesses play hardball. The Facebook organic reach is at an all-time low, but there are ways to get around this. Your best bet is to create content that people want to share.
If your post does something new or interesting, it will be more likely to catch the attention of people who are already sharing content on social media. There are also other tactics you can use, such as creating a group or buying ads on Facebook. This strategy should help you boost your posts' reach by 30%.
Facebook promoted posts to let you pay a couple of dollars per post and reach a much wider audience. It's a fantastic investment because it takes just one or two shares of a promoted post before word gets out that your company is actively supporting the community. Then organic engagement will soar as other users share your content with their friends and family who might not have been following you before.
Twitter
Twitter is an excellent resource for finding new followers. The reason that Twitter is so influential is because it's not just one-sided. You can follow anyone you want on the site, and they don't have to follow you back.
In fact, most users won't follow you back at first. But since anyone can follow any user they want, there are no barriers between users and information sharing, which means you can build up followers quickly. A great way to get your message out, but it's also a great way to find new content and share it with others.
The power of Twitter comes from the ability to easily share content with other people. You can boost your content's reach by using hashtags, @mentions, and Twitter Cards.
Hashtags are tags that you include in posts with the # symbol. When someone clicks on a hashtag, it takes them to a list of posts that use that hashtag. Hashtags help categorize content into topics, which helps users find what they are looking for more quickly. You can use hashtags in tweets to take advantage of this system.
Twitter is a social media star that has been falling from grace. The number of active users on Twitter has plateaued, and their stock price isn't looking much better. One reason for this is because everyone thinks it's dead now. In fact, 93% of marketers say they don't feel as strongly about Twitter as they did a few years ago. But if you look at the numbers, you can see that Twitter may not be as dead as we think…In fact, Twitter is still the second most popular social media site out there, with over 500 million monthly.
What makes Twitter marketing unique?
There are all kinds of communities within Twitter that you might not be aware of. Dozens, probably hundreds, of different Twitter communities, including book lovers, writers, marketers, sales representatives, high-tech, consumer tech, and B2B tech.
There are several unique features of Twitter that make it different from other social media platforms.
Some of those features include:
The ability to post updates in only 140 characters and engage people instantly, and on a regular basis (Twitter is one of the most popular tools for businesses to share short thoughts and news often). The option to create lists on Twitter, which can be customized by anyone to follow specific groups of people or brands. The capability to see what your followers like, by monitoring their interactions with posts and tweets.
With Twitter, employees can help humanize their company's brand and further the reach of company content. It adds up to way more exposure than the company could have achieved alone when employees retweet posts.
Using Twitter effectively can lead to a high return on investment.
LinkedIn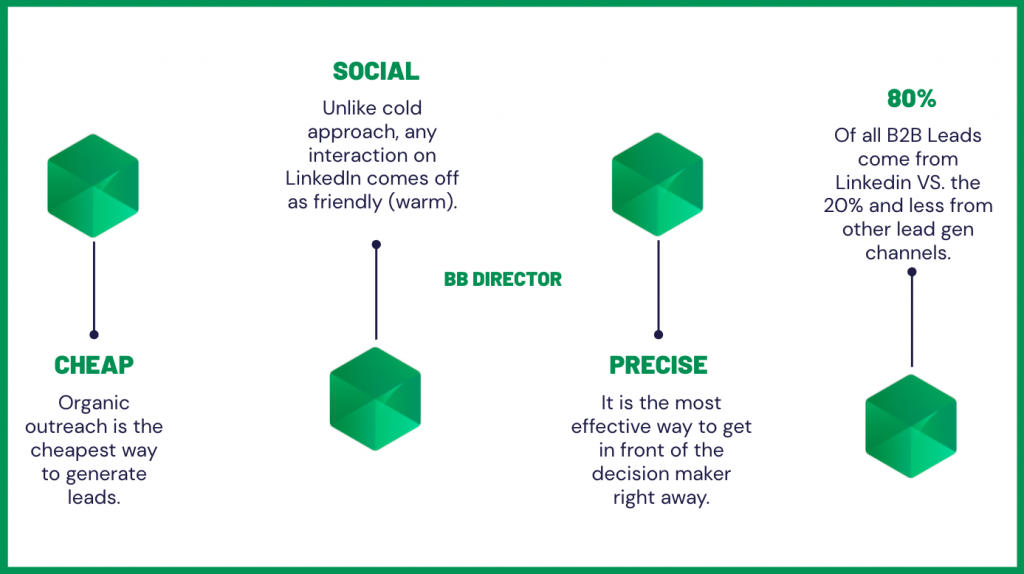 LinkedIn is an excellent resource for a blogger. It has a massive user base and also allows you to connect with people in your niche. You can share content, engage with them and create a professional brand profile.

People use Linkedin as their personal resume now more than ever before. And if you want to be successful on LinkedIn, you need to consider it as such: a digital version of yourself. Think about all the things that would go into building an ideal "self" on paper – and then do it online! This means creating a profile that visitors will find interesting and useful – and one that makes you look good.
Linkedin holds the top position as the most influential social media site for business professionals. It is used by recruiters and HR personnel as one of their primary tools for finding out about job applicants and as such it is important that you optimize your profile accordingly.
Sourcing relevant content on LinkedIn is an excellent way to reach out to the target audience. With the growing content marketing trend on LinkedIn, people consider it as the finest platform for promoting worthwhile content.
Although Twitter has more users than LinkedIn, the latter has become more popular for B2B content marketing. The change in trend can be attributed to the format of promoting content on LinkedIn. The company appealed to people's ego by stating facts about them in the context of their professional position; thus it became more popular than Twitter.
LinkedIn is one of the most valuable and under-utilized marketing tools available. It is a powerful social networking platform that can be used to promote products, services, brands, and individual professionals. However, it is not only used for business purposes; it also serves as an excellent way to network with other professionals in your industry.
To strategize and implement LinkedIn content marketing, there are a variety of tactics and tools available. The purpose of features such as InMail is to build awareness and affinity around a brand's products, while the purpose of company and showcase pages is to create thought/service leadership with the target audience.
Linkedin allows you to promote events on the platform by creating a sponsored post.
When you create an event on LinkedIn, you have two options for promoting your event. The first option is to pay $10 per click that leads traffic to your registration page.
The second option is to create a sponsored post, which includes your headline and description of the event in addition to a link back to your registration page. The cost of the sponsored post depends upon how much exposure you want.



Instagram
Instagram is now one of the world's largest social media platforms, with 1 billion monthly active users, that allows individuals and businesses to share photos and videos with the public. Instagram content marketing has become one of the most effective ways to connect with customers on social media, as well as increase brand awareness and drive traffic back to your website.

Building a solid following that engages with your posts is the first step to creating an effective Instagram marketing strategy. You will gain more followers, likes, and shares within your community. The next step is to create an interesting photo or video content for your target audience.
The truth is that there are so many more ways to use Instagram than just posting pictures. There are a ton of creative ways to stand out from the crowd and get more followers on this social media platform, such as:
Run contests and giveaways for free products or services. This will help you attract new customers, particularly if you offer them something that is not readily available elsewhere. People love getting things for free!
Use influencers in your niche to
Since Instagram is a mobile-based platform, it is also particularly popular with younger generations, which makes it an ideal marketing tool for brands to reach consumers.
Organic marketing on Instagram has been successful in increasing brand awareness and engagement.
Instagram has become a popular platform for brands to market their products and services in the past few years. Studies show that Instagram content drives more engagement than Facebook or Twitter. For example, according to a report from Adweek, about three-quarters of the top 100 brands on Instagram saw a rise in engagement.
What makes Instagram so great for brands? The number one reason is that it's visual. People love to see photographs and videos – they help tell a story in a way that plain text just can't do alone. They also have longer shelf lives than text-based content does. If you create a post on Instagram, it will stay there for as long as you want it to.
The type of content you post and how often you post on this social media platform will ultimately depend on your marketing strategy. By setting up a strategy before diving into a new social media platform, no matter how well it works for everyone else's business, you'll stay focused on your goals and, most importantly, your audience.

If you want to use Instagram for business, it's crucial to know who your target audience is.
There are some key things that make content go viral, which can be used by maintaining a consistent posting schedule daily or weekly (Monday-Friday) at the same time every week with similar hashtags and names/links in captions.
You can learn a lot about how to craft your Instagram strategy by analyzing accounts similar to yours. By examining the way they use hashtags, their content curation style, and even the type of images they share, you'll be able to understand what is working for them and what isn't.
Once you know that information, it will be much easier to tailor your own strategy to fit in with theirs. While there are no hard and fast rules for every business out there, many of these basic practices will apply universally.

Once was a simple photo-sharing app. Nowadays it has transformed into an immersive social experience, with one billion monthly active users that allow users to explore a company's visual identity. There's no denying Instagram's power and reach!
The Importance Of Quality Content
With the amount of content available online, it's not enough to just produce content for the sake of having it out there. Content must be engaging to be effective.
We want to create a website that is all about quality content. We want to rank high, and we know that this can be done with the right kind of content.
If you write good content, then people will share it and link to it, and you'll get more traffic; if you write great content, then your site will grow to become a major authority in its niche.
What type of content is good content?
It varies. There are no hard rules as to what's good or not, but there are some ways to figure out if your content is bad or not.
It's bad when it doesn't offer anything new for your readers. It's bad when you're posting the same thing over and over again, even though the topic may be important each time you post it. It's bad when you can't answer any questions people might have about it by yourself. That means they'll leave your blog without engaging with your posts in any way.
When we write good quality content, we identify the problems and goals of the reader, and we address them directly with relevant information.
To be successful in digital marketing and generate a lot of traffic, you need to create high-quality content. Content that has a high level of quality is what the major search engines such as Google and Bing seek. These search engines view high-quality content as authoritative and relevant information that is useful for their users; therefore, your site will rank higher on SERPs if you post such content.
High-quality content also appeals to visitors because it answers their questions and provides them with solutions they can use. You can easily find out what your readers want by doing some market research.


Market Research Prior Distribution
Great content goes viral not because it has a sensational hook but because it targets an audience's precise interests and needs. How can you determine what your target audience wants to read about?
What's the right content for your audience? What should it look like? How often should you post? These questions are best answered by a combination of user research and qualitative analysis.
Qualitative analysis is a lot more complicated than aggregating analytics or running a survey to see what users want. It involves talking to real people, seeing what they do, observing their behavior, and analyzing their data. User research can help you create better content that resonates with your audience.
Market research enables businesses to take a step back, and obtain a clear, objective, and data-driven picture of their true distribution channel costs, and just as importantly, potential savings that can be generated by adding or substituting specific channels.
Final Words
Content distribution is the second most important thing when it comes to growing your site traffic, sales and revenue. Without it, you're left with great content that nobody reads.
Hope you enjoyed the article and if you have any questions, feel free to share them in the comments below.