There's no magical key for achieving a perfect marketing strategy. However, if such a thing existed, it would presumably include a combination of high-quality, engaging content, a solid plan, and continuous social media distribution. It would also include a serious amount of input from your marketing team and you as their leader.
In the world of content marketing, it can be challenging to decide where to best distribute your materials with the abundance of platforms available today.
That's why from this article, you'll learn all about social media content distribution, from what it is and its importance to all the strategies you can use to distribute your content and achieve maximum results.
What Is Social Media Distribution And Why It's Important?
As distributing your content is a critical component of your overall strategy, it's necessary to understand what distributing the content on social media means and its importance before moving any further. Additionally, it's beneficial to know how it can increase brand awareness, improve your brand's image, and help build a dedicated community of followers.
What Is Social Media Distribution?
Distributing your content on various social platforms is the method of sharing, publishing, and promoting compelling media content on these channels.
This content may be created precisely for this kind of channel, or it might be content that's re-formatted and reused on social platforms.
Why Is It Important?
Distributing engaging content is an essential component of any content marketing strategy because it increases brand awareness, builds loyal clientele, and encourages your target audience to act on your products or services.
Distributing your content correctly can lead to more social shares, drive traffic to your website, and create more conversations across your media channels.
This implies that every content creator and content marketer needs to find ways to stand out from the competition and earn the audience's trust. With this in mind, even if you're excellent at identifying trends before they spike, you won't be able to get the visibility you need unless you have a solid content distribution and content promotion plan.
Content Distribution Channels
Content distribution channels are part of the content distribution strategy of how you decide to share or promote the content you create. The platforms you use to distribute your content can change based on your audience and resources.
There are three content distribution platforms that cover several more specific distribution channels, and they are: owned, earned, and paid.
Owned Content Distribution Channels
Owned channels are the ones that your company owns. You can control when and how content is published and shared on your owned channels. These include your website and blog, different social media profiles you may use, email marketing, or a mobile publishing app.
Earned Content Distribution Channels
Earned channels, also recognized as shared channels, are when third parties promote or share your created content. These third parties could be your customers, journalists or bloggers and anyone who shares your content for free.
These channels include public relations, social shares and mentions, guest articles, recommendations and reviews.
Paid Content Distribution Channels
Paid Channels take a fee for advertising your content. These are different platforms that have paid ads, social media advertising such as Facebook ads, media that post sponsored content, and paid influencer marketing.
Social Media Distribution Strategy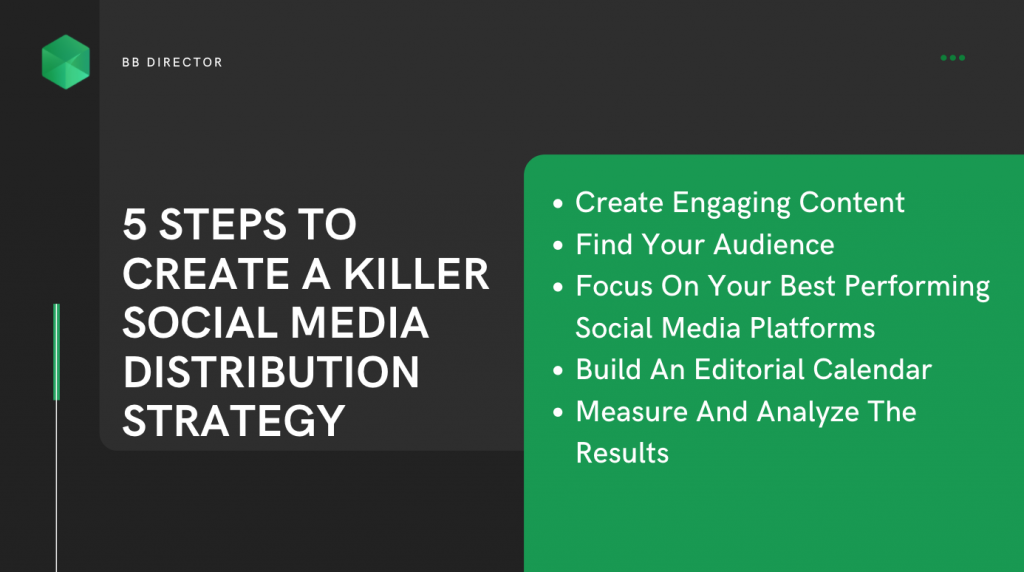 To get your content to be seen by your ideal target audience, aligning your distribution and promotional efforts with their preferences and expectations is essential. Additionally, you need to know your audience, how they interact online, what they like or dislike and their thoughts about specific topics of interest.
To do this, you need to have a solid social media strategy, and with this article in hand as a step-by-step guide, you'll be able to achieve that task.
So, let's begin!
Create Engaging Content
Consistent and high-quality content production is an essential part of your strategy.
Content creation is the process of coming up with ideas on topics that appeal to your audience, creating content around those ideas, and making that information accessible to your audience as different content types, such as blog posts, video content, infographic, social posts, case studies or other formats.
When you create content, you provide free and valuable news and information to your clients, gaining their trust and attracting new potential customers to your website or social media.
The amount of effort you put into the process of creating your content is directly proportional to the benefits you get from that content. So high-quality content will help you:
Stand out as a brand from the competition;
Grow the number of your subscribers and email list;
Increase your website traffic;
Keep your clients engaged;
Generate revenue;
Did you know that 60% of companies can't produce content consistently, and 65% of them find it challenging to produce content at all? And, did you know that content marketing costs 62% less than traditional marketing and generates about three times as many leads?
Stellar content is what customers remember and connect with each other in lasting and impactful ways, and that is only achievable with great stories, consistent publishing, and a variety of mediums, these goals are equally as important but increasingly difficult to achieve.
That's why we offer our professional experience to advise you and create a free 6-month strategy for you!
Find Your Audience
A targeted audience is a group of individuals represented by certain types of behaviors and specific demographics. They help and influence most businesses' decision-making for content strategy, such as where to spend money on promotions, how to appeal to customers, and even what services or products to create in the future.
Target audiences are used to define your buyer persona. Creating a buyer persona takes a bit of research, time and work, but the result is a clear picture of the person you want to market to and who will happily consume your content.
Some of the behaviors and demographics as mentioned earlier are:
Their current location;
Their age;
Their gender;
Their current working place;
Their education;
Their income.
If you're having any trouble finding your audience, we can show you 1000 qualified leads on LinkedIn that fit that audience and are ready to be reached out. Check this link and book a 30-minute free strategy meeting!
Focus On Your Best-Performing Social Media Platforms
It's no secret that people nowadays use social media on an everyday basis. Knowing this fact, you can easily use your best-performing social media platform, the one with the most followers and engagement, as an advantage to connect with your clients.
Build An Editorial Calendar
There is lots of planning and hard work to succeed in content marketing and distribution. This is where an editorial content calendar can come in handy.
Your editorial calendar helps your team stay aligned and put effort towards the company goals. It also gives your writers and editors a roadmap for what they'll be working on in the coming weeks and months.
There are plenty of types of software and tools that help you build an editorial calendar, and some of the best are:
Are you searching for a highly effective and practical tool ideal for team collaboration? In that case, try Trello.
This platform offers a full calendar view, making it easy to visualize what content is going out and when. More specifically, you can use Trello's flexible assignment cards or customizable boards to map out to-do lists, manage the calendar, plan a marketing campaign, and write down some new ideas.
Pricing: There is a free plan available for individuals, a standard plan for $5.00 per month, a premium for $10.00 per month and an enterprise for $17.50 per month.
This social media calendar and publishing tool makes it effortless for teams to plan and organize their social posts.
You can also add notes to each post to better track and document your media strategy and campaigns. Additionally, their publishing suite includes a tool named Optimal Send Times, which can analyze your social media data and automatically publish posts.
Pricing: There is a standard plan for $89.00 per month billed annually, a professional plan for $149.00 per month and an advanced plan for $249.00 per month.
This tool offers a built-in Planner tool that helps you create campaigns, identify publishing errors, and collaborate with your marketing team.
Its primary feature is publishing, so this tool enables you to release content to your social networks in advance, but it also has many features for collaboration and post approvals.
Pricing: There is a professional plan for $49.00 per month, a team plan for $129.00 per month, a business plan for $739.00 per month and an enterprise plan.
If you want to see more amazing content creation and production tools, then check this link!
Measure And Analyze The Results
The final and probably the most crucial step in the distribution process is measuring and analyzing your results. Without data, there is no way of knowing what's working or how to improve it.
You can track several data points when analyzing your work and use your final goals as a guide to set some parameters. Whatever you want to achieve with your distributed content will help you choose your metrics.
What you decide to analyze is entirely your choice. However, here are some ideas for what metrics to focus on and track:
Organic Traffic: The amount of traffic you get from search engines.
Engagement Rates: The number of individuals interacting with your content through likes, shares, comments, or other ways.
Audience Growth: The new subscribers or followers that are generated from a piece of content.
Conclusion
You can create meaningful and engaging content, but you won't achieve your marketing goals without focusing on content distribution as an integral part of your strategy.
As you have read in this article, distributing content on social media is one of the most crucial things you can do to improve your marketing campaign.
And, now you're provided with the best social media distribution strategy to get your content in front of your target audience, resulting in various benefits for your company and your team.
Thanks for reading, and of course, don't forget to share your thoughts and questions in the comment section!
Also, check these content production and distribution guides out: